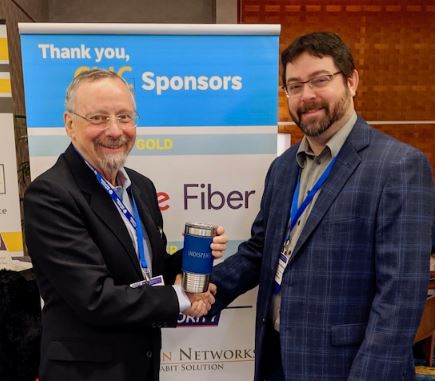 A number of years ago, CLIC established its national awards to honor individuals and organizations for extraordinary contributions to the preservation and protection of local decision-making in critical broadband infrastructure matters. This year, CLIC honored Chris Mitchell of the Institute for Local Self Reliance with its "Indispensable Contributor" award during the Broadband Communities conference in Alexandria, VA in late October.
CLIC conveyed this sentiment in a letter to Chris: "You have been chosen for this singular award in recognition of the indispensable contributions you have made to local internet choice during the last decade, for your tireless opposition to barriers to local decision-making, and for your creation of a huge and immensely valuable body of knowledge about community broadband initiatives."
Widely known across the country for his passion for local internet choice, Chris' name is typically one of the first to be recommended to a community seeking information on how to drive the process for improving broadband access to its local businesses and residents.
As Jim Baller, CLIC's President, recently noted: "If Chris Mitchell and his team at ILSR did no more than tell the evolving story of community broadband in real time, their work would be invaluable. But that is far from all they do. They often write high-quality analyses and reports. They address countless audiences in person and through electronic means. They participate actively in our fights against state barriers to public broadband initiatives. They communicate regularly with the media to debunk industry myths and falsehoods. This list could go on and on. Chris and his colleagues have truly earned CLIC's recognition for their indispensable work."
CLIC honors Chris and his team for their hard work and national accomplishments.